Dissolute Resorts
by J. Richards
What's a broken hearted girl to do after being used as a stepping stone by her ex-boyfriend and then dumped on top of it? Go on a sex filled vacation with her care free best friend of course!
Evie Parks feels depressed and bitter. That is until her best friend Lilly drags her away to a two night, three day vacation to Dissolute Resorts in Cancun Mexico. Lilly is determined to make Evie forget about the douchebag and all his slimy, cheating ways.
At first getting Evie to have fun is like pulling teeth, until Lilly finds out that alcohol helps her friend loosen up and enjoy her God given assets. After all, vacation sex "doesn't count"! The girls hit the resort with vows of good times, strange guys and fun in the sun but all that changes when Evie meets a handsome man who rearranges all her plans.
Reader Note—Contains BM/WF and intimate strangers.
vacation sex "doesn't count"!
My Review:
My Review for Dissolute Resorts by J. Richards may be short, well that's because it was a short read. Let me begin by saying, that there s a very strong message in this story and I hope many will let it marinate in thought and use it when the time is needed.
The story starts off with a very brokenhearted Evie Parks, her boyfriend of many years decides to dump her after she helped him move up in his career. Luckily, Evie has a best friend Lilly, who is determined to make her forget the slimbag who is behind her tears.
This may not be a trip Evie is up too but it is exactly what she needs.
J. Richards hits you in the nether region with a out of nowhere meet and definitely greet tall handsome stranger that will be Evie's first experience with vacation sex and the vacation has yet to begin. It is one off the charts hot as hell sex scene. With Evie having one feel good experience she decides to throw caution to the wind and just enjoy herself. With no thoughts on her ex and her best friend enjoying a man on the island, she decides after a few drinks she wants a walk on the beach. Evie finds herself in the arms of a handsome stranger and that unbelievably heaven sent god of a man will show Evie a time she will never forget and he will make her feel things she never has and a new woman will return home believing in herself because of that handsome stranger. I have to say it was a surprise ending since it was a enjoyable read, I found myself wanting more.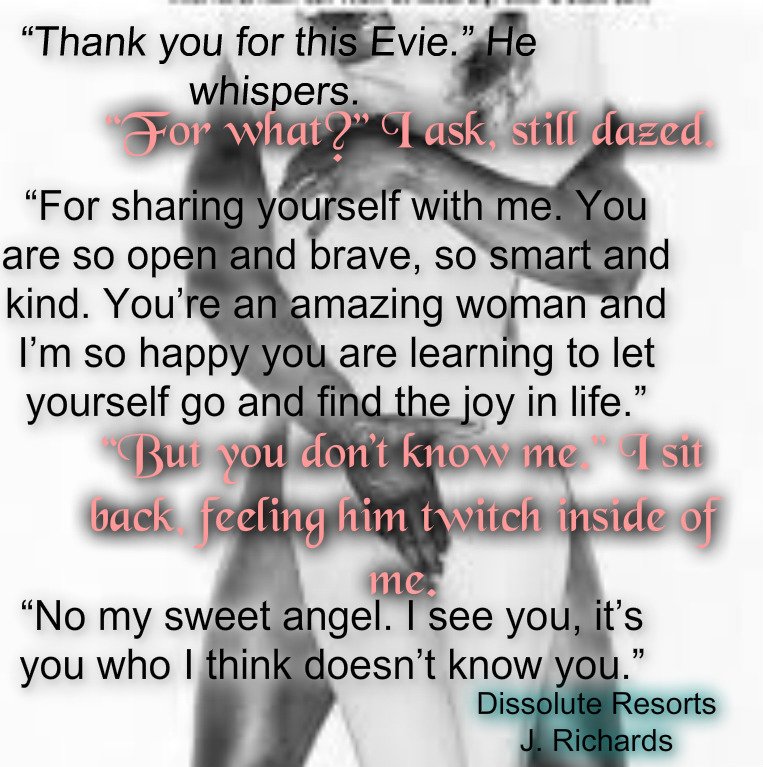 About the Author: